WELCOME

Logistics Development UK Limited delivers services, and systems, to satisfy demanding programmes for growth or change. We improve operational performance and customer satisfaction, whilst reducing costs and capital needs for your logistics operations and supply chain, by providing the following:


Forcasting, Purchasing and Re-ordering Systems >

Consultancy services to assist in the development of changing Logistics and Supply Chains >

Consultancy projects to improve specific operational performance >

Warehouse design, operating methods and equipment layouts, fit-outs, project management and relocation where needed >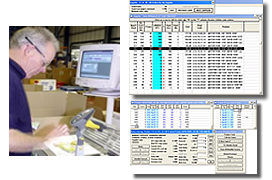 If you require expert solutions that are achievable, fit your business, offer competitive advantage and can quickly be put in place then, you need consultants, analysts, project managers, and engineers that have proven records of success and have the vision, creativity and deep technical experience gained across a broad range of companies and situations.
Similarly if you need software that will really deliver world class performance for your business, then accurate analysis of what can be achieved, and how, is a pre-requisite. This needs to be followed by flexible software, with an excellent track record in demanding environments, backed up by strong installation and on-going training support.
Logistics Development has successfully provided these services over the past 18 years to companies in many diverse business sectors. Please see our clients list, software case studies, warehouse case studiesandstrategic development case studies for more details.
Logistics Development UK Ltd.
Chalk Road, Ifold, Loxwood, West Sussex RH14 0UD Tel: (0044) 01403 753824